About Us
Zetta Water Purifier is a leading organization incepted under the leadership of Mr. Bhavesh Zalavadiya, Founder & CEO. It is engaged in manufacturing, trading, wholesaling, and retailing a vast range of water purifying products. We have a highly skilled and diverse team which delivers the products as per the requirements and provisions of the customer using optimum quality inputs and machines. Hired from amongst the supreme talents present in the industry, these specialists are well versed with the information of this domain.
Furthermore, we believe in continuous improvisation through brainstorming thoughts and ideas. We work on various insights that we gather from the customers and ensure sustainability. Also due to the punctuality, consistency, and excellence of our products, we have accomplished a glorious place in the industry. We dig deeper in establishing a connection with our customers and hence provide services for installation, service & maintenance of the products.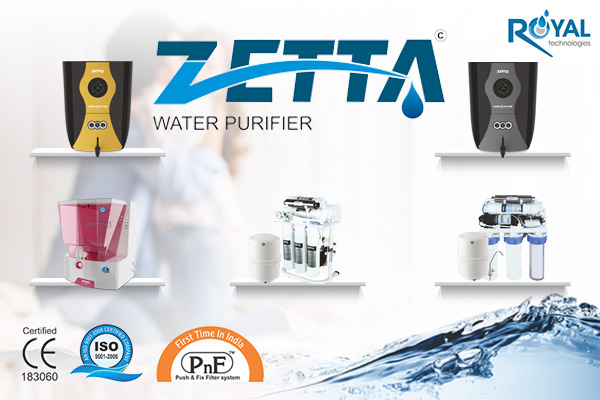 OUR VISION
Be a globally preferred water purifier brand, for residential as well as commercial usage.
Delight customers with quality products and service by setting new trends through innovation and technology integration.
Be a responsible corporate with uncompromised commitment to environmental protection
Our values are the key driving force to align the organization towards customer sensitivity and deliver beyond customer's expectation. They encompass our culture, attitude, behavior, action and delivery promise and will thrust the organization to achieve sustainable heights.
OUR MISSION
Zetta is committed to deliver innovative, unique, highest quality products with service excellence as our mission to our customers
We approach this through continuously improving our work culture, approach and management style
We promote trust, homogeneity and believe in delivering products with the sole objective of providing 100% pure and hygienic drinking water
Post analyzing the market and studying the gaps prevalent in the water purification industry, we designed, manufactured and marketed innovative and unique domestic RO water purifiers